Core Tools Training - Package Deal
DURATION OF COURSE
4 days
CPD
Equivalent to 28 hours
CERTIFICATES
All delegates will receive a certification on completion.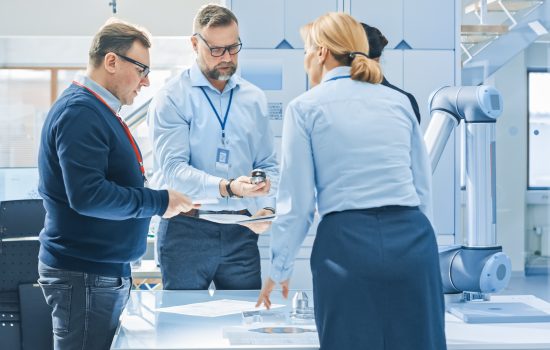 This four day training course combines all five of the AIAG Core Tools, saving delegates £785 when compared with attending the each course separately.
The five Core Tools (FMEA, APQP, PPAP, SPC, and MSA) enable organisations to develop new products and processes more efficiently, reducing the risk of product and process failure, and enabling co-operation between supply chain partners.
Originally developed by the 'Big Three' automotive OEM's (Ford, General Motors and Chrysler) to support QS-9000 and its role in approval of automotive sector suppliers. They have been developed since their introduction in 1994 while the automotive industry standards have progressed through ISO / TS 16949 to the current IATF 16949. Of which Bywater offers IRCA approved Internal and Lead Auditor training.
Core Tools underpin the product development process and product life cycle, from concept to service support. Organisations need to be familiar with and use core tools (or other acceptable customer tools) to support the implementation of a Quality Management System that is compliant with ISO 9001 and IATF 16949.
This course is available in house, when booking this the course can be tailored to your companies needs.
The five core tools consist of:
APQP – Advanced Product Quality Planning
This will teach delegates how to make their products and production process' meet market requirements and customer expectations.
PPAP – Production Part Approval Process
This covers the areas that will need to be considered during product development from the customers requirements. It ensures that products can be manufactured to the requirements consistently.
FMEA – Failure Modes Effects Analysis
FMEA techniques concentrate on how to detect and prevent failures, allowing companies to reduce the risk of defects in design and manufacture.
SPC – Statistical Process Control
SPC uses a variety of statistical tools for data and process analysis in order to improve productivity, efficiency, and product quality, whilst reducing variation and waste.
MSA – Measurement System Analysis
MSA equips delegates with the necessary skills to reduce measurement variation. This is achieved by assessing the process of how the measurements were obtained and the implications of errors in the manufacturing process.
This combined Core Tools training course is suitable to any personnel involved in, or in charge of a manufacturing and design process. Delegates are not required to have substantial knowledge of the topics prior to this course.
Delegates should bring a laptop or calculator for use in practical workshops.
The aim of this combined Core Tools training is to allow delegates to:
Gain a strong understanding of all the AIAG Core Tools
Identify the requirements and expectations for the product or process
Provide high quality products that meet or exceed customer expectations
Produce high volumes sustainably
Core Tools Training can be scheduled to take place at your offices, a venue of your choice or online on your chosen date. The 4 day course includes interactive workshops, case studies and team activities covering the five core tools; APQP, PPAP, FMEA, SPC and MSA. Dedicated training is often more cost effective and convenient for those wishing to train several team members.
For Scheduled Training courses, please select from the Course Dates and Venues table below.
Customer Reviews
Well delivered
Everything was very smooth and well delivered. The tutor has a wealth of knowledge that easily expands beyond the scope of what was being taught, which helped a lot with specific examples brought to the training.
PPG Aerospace|13th Jan, 2021
Very informative
Very informative. Method and approach of delivery allows for audience participation. Students are able to develop their understanding of a topic and collectively identify areas to improve current processes within the business, guided by the tutor.
Wipac Technology Ltd|30th Dec, 2020
Good content
Presentation slides were of good content and graphical visualisation
Wipac Technology Ltd|29th Dec, 2020
Knowledgeable & professional
The tutor was very knowledgeable and was able to give a clear answer to any questions that were had throughout the course, as well as having extensive knowledge above what was on the slides alone. Talk was done in person...
Wipac Technology Ltd|22nd Dec, 2020
Relevant to our business
The tutor  had a broad knowledge and was able to make the course relevant to our business. She was happy to learn and to discuss concepts and detail that we did not know.
Scottish Leather Group Operations Limited|18th Dec, 2020
Excellent
Excellent Tutor
Goonvean Fibres Ltd|7th Dec, 2020