Introduction to APQP and PPAP Training Course
DURATION OF COURSE
1 days
CPD
Equivalent to 8 hours
CERTIFICATES
All delegates will receive a certification on completion.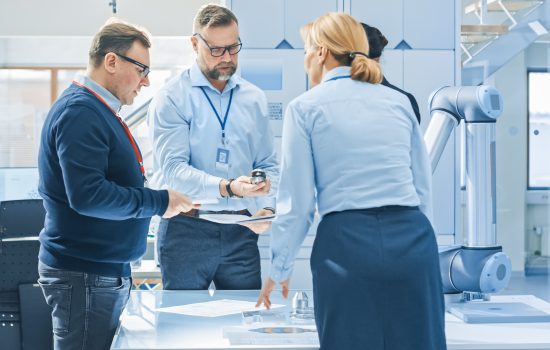 This one day practical APQP and PPAP training  course will provide delegates with a basic knowledge of APQP and PPAP. It will show delegates how to compile the evidence required during the product development and production processes and explains how client organisations can use the information supplied to gain confidence in their suppliers.
Companies that have implemented IATF/TS 16949 may use Advanced Product Quality Planning (APQP) to ensure that their products and production processes meet the market requirements and customer expectations. The Production Part Approval Process (PPAP) provides client organisations with the evidence required to show that – "All customer engineering design record and specification requirements are properly understood by the supplier and that the process has the potential to consistently produce products meeting those requirements during an actual production run".
Read our news item on "APQP – Are you achieving market potential?"
The business need for APQP and PPAP processes
The requirement for APQP and PPAP in IATF/TS 16949
Overview of APQP process
Project Management and Timing Plans
Defining project scope and requirements
Product design and development
Process design and development
Product and process validation and control plans
PPAP process and requirements
Scope and limitations of approval
Evaluation of evidence submitted
Ford phased PPAP requirements
Levels of Submission and Evidence required
Parts submission warrant
Supporting evidence
Materials data and use of IMDS database
Process capability
Additional Core Tools relating to the Automotive industry include: Failure Mode and Effects Analysis (FMEA);  Measurement Systems Analysis (MSA);  Statistical Process Control (SPC).
If you book any two "core tools" courses together we can offer a discount of £100.  Please contact us if you wish to take advantage of this offer.
Engineers and engineering managers responsible for developing and managing supply chain relationships
Design, manufacturing and quality engineers involved in the preparation, submission or evaluation of PPAP documentation
By the end of this APQP and PPAP training course, delegates will be able to:
Interpret the requirements for APQP and PPAP in IATF/TS 16949 and the need for these in business.
Initiate the APQP and PPAP processes within an organisation with an awareness of the scope and limitations of approval.
Understand the levels of submission and evidence required.
Our Introduction to APQP and PPAP Training Course can be provided on a dedicated basis at your offices, a venue of your choice or online on your chosen date. The course includes a range of interactive workshops and modules such as 'APQP Process', 'Product Development' and 'Process Development'. Dedicated training is often more convenient and cost effective for those wishing to train a number of employees. Schedule the course for a date which is convenient for your team.
For Scheduled Training courses, please select from the Course Dates and Venues table below.
Customer Reviews
Relevant to our business
The tutor  had a broad knowledge and was able to make the course relevant to our business. She was happy to learn and to discuss concepts and detail that we did not know.
Scottish Leather Group Operations Limited|18th Dec, 2020
Excellent
Excellent Tutor
Goonvean Fibres Ltd|7th Dec, 2020
Knowledgeable and experienced tutor
The tutor had a lot of very good knowledge and experience of auditing and this showed throughout the two day course. I have now had time to put into practice what I what I was taught and it is amazing...
Auto Turned Products|18th Nov, 2020
Applicable to our industry
Tutor presented the course applied to our industry, allowing us to better transpose all examples into our work.
Crane Building Services & Utilities|31st Oct, 2020
Practical
Course was more practical than I imagined
Enersys|16th Oct, 2020
Well Explained
Having the course folder in front of me made it easy to follow along with tutor. The tutor was very clear and explained things well. I also felt more confident to talk in a virtual classroom.
Goodridge Ltd|16th Aug, 2020