ISO 45001 Lead Auditor Training Course
DURATION OF COURSE
5 days
CPD
Equivalent to 40 hours
CERTIFICATES
All delegates will receive a certification on completion.
CERTIFICATION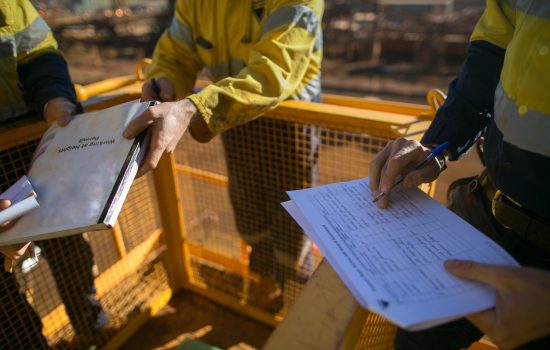 A CQI and IRCA Certified ISO 45001 Lead Auditor OH&SMS training course online or in person (Course ID: 1866)
This 5 day
ISO 45001 Lead Auditor training course
available on online or in person, teaches delegates the knowledge and skills required to conduct a complete an OH&S audit, from effectively planning the audit, to conducting the audit, reporting on the findings and ensuring follow up action is completed.  It is designed for those carrying out first, second or third party audits of an OH&S Management System.
This course was the first of its kind to meet the CQI and IRCA PR357 course specification ISO 45001:2018 Lead Auditor (Occupational Health & Safety Management Systems).
Assessment is by continuous assessment and an examination on the final day. Successful completion of this course satisfies the training requirements for initial certification as an IRCA OHSMS auditor.
ISO 45001 and other OH&S standards
Audit planning
Documentation requirements
OH&S legislation and codes of practice
Hazard identification
Audit checklists
Risk assessment and development of risk management controls
Audit frequency, emergency planning and audit scope
Opening meetings
On-site audit process, including interviewing techniques, notetaking and making judgements
Non-conformances, corrective actions and follow-up
Closing Meetings
Those wishing to perform first, second or third party audits of an OH&S management system
Those implementing and responsible for an ISO 45001 certified OH&S management system
Anyone seeking CQI and IRCA registration as an OH&S Lead Auditor (other membership criteria may apply)
Those leading audit teams
This course (and all CQI and IRCA auditor courses) cannot cover the requirements of the applicable standard in detail.  Therefore, some delegates find it beneficial to attend our Introduction to ISO 45001 training course to gain a better understanding of ISO 45001 and its requirements.  We offer a discount of £100 if you book this with your ISO 45001 Lead Auditor training course.  To take advantage of this offer please contact us on 0333 123 9001.
Click here to learn more about prior knowledge requirements.
On completion of this highly interactive and participative ISO 45001 lead auditor course, delegates will be able to:
Plan, develop and implement an internal or external audit process appropriate to your organisation which supports your OH&S policy.
Conduct ISO 45001 audits to professional criteria with confidence, gathering objective evidence through observation, interviewing and document trails to provide factual audit reports that will facilitate continuous improvements to the OH&S programme.
Develop their own skills, techniques and competence as an auditor.
Assess compliance of an organisation to meet your company's own internal or external OH&S (e.g. Certification Body) requirements.
This certified ISO 45001 Lead Auditor Training Course can be held at your premises, a venue of your choice or online in our Virtual Classroom. Dedicated training is often cost effective if you wish to train several employees. This Lead Auditor course includes interactive workshops and case studies covering subjects such as 'Audit Preparation', 'Audit Performance' and 'Non-conformance Statement Writing'. Arrange for this course to take place on a date and place that is convenient for your team.
For Scheduled Training courses, please select from the Course Dates and Venues table below.
Customer Reviews
Engaging virtual training
Excellent tutor. It isn't easy to keep students engaged for that length of time virtually, but he did with ease, and I thoroughly enjoyed the course.
Championx Ltd|18th Feb, 2021
Engaging
One of the best training sessions ever and I think that says something as it was online and I was surprised how engaging it was. I have learnt so much.
Bespoke Safety Ltd|15th Feb, 2021
Great
The tutor's knowledge and delivery was great and made the whole process easy and understandable
Gardner Denver Ltd|10th Feb, 2021
Spot on
From first correspondence with the booking team, to update emails and our tutor, everything was spot on. The tutor delivered the course with good knowledge and examples of the the subject.
Winham Pml|7th Feb, 2021
Exceptional
I was concerned about having a whole week on Zoom and that I wouldn't enjoy it, or be able to learn from that way of learning, however the tutor's knowledge was exceptional and engaging. The course exceeded my expectations.
Npower|1st Feb, 2021
Very professional
Extremely knowledgeable. The tutor was able to relay his own experiences throughout. Very professional tutor.
RAF|27th Jan, 2021