Procurement and Contract Management Consultancy Services
Procurement and Contract Management Consultancy is available to public and private sector organisations seeking professional support to overcome specific challenges in order to achieve significant savings, greater efficiency and drive improved business performance.
Bywater can help organisations meet these challenges head on, we do this by working together as a team to understand what your key priorities and objectives are. We can assess your current systems and procedures to assess where and how improvements can be made and identify any skills gap where training may be required.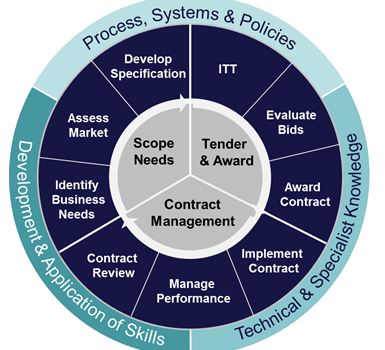 Procurement process and organisation review
Strategic and tactical sourcing
Contract management review
Transform procurement function and review how goods or services are performing
Category management analysis
Restructuring existing partnerships
Consolidating spend
Training needs analysis and programmes
Supplier qualification services
Risk assessment – cyber and supply chain
We have worked with a number of organisations on customised projects in order the meet their objectives. Where appropriate this has included post project briefings to senior management to underline performance improvements and future ambitions. These include;
BP (Procurement Consultancy)
Reviewed all aspects of procurement strategy – process, systems, roles, skills and measurement. Achieved significant savings short term and identified further savings long term.
Wolverhampton City Council (Procurement Consultancy)
Value realisation project – cost reduction delivery across Council directorates by reviewing existing contracts to re-evaluate contracts and terms.
Buckinghamshire County Council (Contract Management and Action Learning Sets Programme)
Contract management – improved contract performance, ensuring compliance, measurable improvements and efficiencies, identifying real value from existing contracts. Achieving values delivery across a range of services and Directorates.
Westminster City Council (Contract and Category Management Training Programme)
Embedding category management and good contract management – introducing sourcing strategically, driving change and managing the market to achieve overall efficiency and performance for the Council.
We can support you with the help you need, if you would discuss your contract management and procurement requirements contact the training team on 0333 123 9001.