Value Stream Mapping Training Course (VSM)
DURATION OF COURSE
1 days
CPD
Equivalent to 7 hours
CERTIFICATES
All delegates will receive a certification on completion.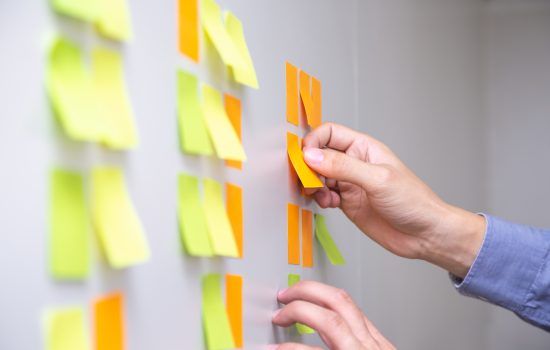 Value Stream Mapping (VSM) is a technique used to visualise the flow of information and materials (often cross functional) that are required to bring a product or service to market. It identifies all of the value and non-value adding activities, non-value being something the customer does not require or is not willing to pay for.
The process involves mapping out the steps taken from idea conception through to after sales support, highlighting areas of 'waste' that can be removed and creating value stream 'flow'.  Most importantly, this technique enables the development of a 'future state map' representing business processes after waste has been removed and the flow of materials and information has improved.
This 1 day Value Stream Mapping training course is designed for all managers, improvement professionals, process owners and anyone seeking to understand, document and improve their business processes with value to the customer in mind.
Successful use of VSM can enable organisations to increase competitiveness and customer satisfaction through reduced costs and waiting times.
What is a Value Stream and Value Stream Mapping
Determining customer value
Value and Non-Value Adding Activities
Seven Wastes
Process, Material and Information Flow
Creating the Current State Map
Basic Value Stream Mapping Icons
Push vs Pull Systems
Value Stream Data
Takt Time
Process Efficiency
Creating a Future State Map
Prioritising Improvements and Future State Implementation
Anyone looking to further understand and visualise their business processes, or develop cross departmental understandings of company processes
Those looking to implement cost saving changes
Managers, not limited to but including those involved in quality, change, and process improvement
Lean professionals
Process owners
Improvement specialists
Delegates who attend this Value Stream Mapping course will be able to map out and visualise processes from design to post-sales support, identifying and removing non customer value adding functions, resulting in:
Reduced waste and costs
Increased productivity and competitiveness of an organisation
Increased customer satisfaction through reduced waiting times and costs
Simpler processes
Flow within a process
The Value Stream Mapping Training Course (VSM) course includes interactive activities and workshops which encourage team discussions on reducing waste, reducing cost, increasing productivity and simplifying processes within your organisation. Schedule the course to take place on a date and at a location suitable for your team.
For Scheduled Training courses, please select from the Course Dates and Venues table below.
Customer Reviews
Highly qualified tutor
I wasn't expecting such a highly qualified tutor which so much experience to call upon. It was all very good
Achilles Information Limited|17th Jan, 2021
Very good
The content was very good and delivered very well, covering everything you need to know
Element Materials Technology|14th Jan, 2021
Well delivered
Everything was very smooth and well delivered. The tutor has a wealth of knowledge that easily expands beyond the scope of what was being taught, which helped a lot with specific examples brought to the training.
PPG Aerospace|13th Jan, 2021
Interesting
From the very first welcome, right through to the last exam, you were put at ease. The delivery of the course was made interesting, and delivered in a cheery but professional manner. It was a good, well run, course.
Cambridge Econometrics|12th Jan, 2021
Interesting and informative
The tutor made the course very interesting and informative
AMS Instrumentation & Control Ltd|11th Jan, 2021
Knowledgeable & helpful tutor
The tutor was really knowledgeable, helpful and tried to make the course enjoyable and easy to understand
VIA East Midlands|9th Jan, 2021