Six Sigma Green Belt (Advanced) Training Course
DURATION OF COURSE
10 days
CPD
Equivalent to 70 Hours
CERTIFICATES
All delegates will receive a certification on completion.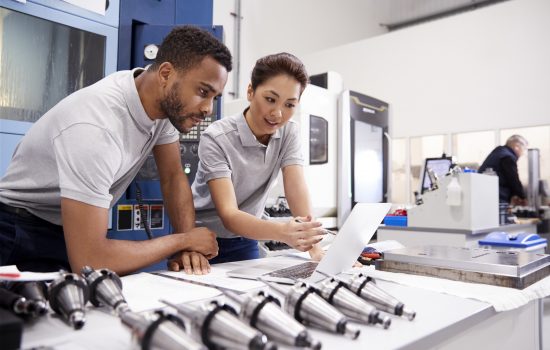 Overview
Six Sigma is a set of techniques and statistical analysis tools used to improve processes by reducing the likelihood of defects and variation. It was first developed at Motorola and grew to prominence after GE successfully adopted the techniques in the late 1980s.  Now Six Sigma is widely used by organisations across all industries, including manufacturers, service providers and financial organisations.
This comprehensive ten day Six Sigma Green Belt (Advanced) Training Course is split into two five-day sessions with a guided project in between.
It incorporates the Lean Six Sigma Green Belt (Essentials) Training Course during week 1 and will cover the basic Lean and Six Sigma tools and principles such as Kanban, DMAIC methodology, and the 7 Wastes, as well as basic improvement project leadership tools.
Week 2 consists of advanced Six Sigma statistical concepts and tools, and will include key topics such as analysing statistical data, introducing the use of Minitab, Six Sigma implementation and managing stakeholders' requirements.
This course will develop a delegates understanding of the competency requirements for Six Sigma Green Belts as defined in ISO 18404 and will explain what is required to become ISO 18404 certified as a business or as an individual under sector scheme RSS18404. Please follow the link to find out more about the ISO 18404 certification process.
Key Topics
Statistical thinking & ISO18404
Statistics as a discipline & methodology
Statistical concepts & tools
Kanban
Measurement System Analysis (MSA)
Introducing the use of Minitab
Application to Process improvement
SPC and Process Improvement Charting (PIC)
Root Cause Analysis
Introducing the use of Minitab
Benchmarking
Analytical, Synthetic and Creative Thinking
Design of Experiments (DOE)
Managing Stakeholder Requirements
Project Support & Presentations
Evidence review for ISO 18404 certification
Who Should Attend
The course is suitable for all organisational employees, but will particularly benefit individuals
Undertaking improvement activities as part of their roles
Taking a technical role in organisations considering applying the Six Sigma approach and possible ISO18404 organisational certification
Responsible for implementing improvement in a project or more widely
In organisations pursuing the approach, but who personally have no knowledge of the theory or practice
Outcomes
By the end of this course, you will learn to:
Understand the Six Sigma approach and toolkit
Appreciate the coverage & application process for ISO 18404
Contribute to Six Sigma improvement projects
Plan, manage & undertake simple Six Sigma improvement projects
Manage stakeholders in pursuit of objectives
Know how to monitor and champion Six Sigma improvement projects
Successful attendance on this course will contribute towards an individual becoming certified under Sector Scheme RSS18404. To find out more click this link.
Dedicated Training
The Six Sigma Green Belt (Advanced) Training Course can be provided on a dedicated basis at your offices, a venue of your choice or online on your chosen date. Interactive workshops and modules engage staff in discussions into how Six Sigma can benefit your organisation. Dedicated training is often more convenient and cost effective for those wishing to train a number of employees.
For Scheduled Training courses, please select from the Course Dates and Venues table below.
Customer Reviews
Well presented
Training was well presented and the content provided was clear and easy to read. Classroom exercises were conducted via zoom which worked really well.
Pipeline Engineering|25th Nov, 2020
Wealth of knowledge
The tutor had a wealth of knowledge and was well received by all course delegates.
Tata Steel Europe|25th Nov, 2020
Great learning experience
The tutor did a great job on teaching through virtual classroom. She involved everyone and helped with any questions etc. Great job and great learning experience.
Portland Port|25th Nov, 2020
Extremely interactive
Tutor was extremely knowledgeable. Was also very happy that course was extremely interactive working through examples.
Tata Steel Europe|20th Nov, 2020
Brilliant tutor, enjoyable course
The tutor was brilliant. He made the course enjoyable with reference to the material content by adding his own experiences to help you remember key facts. Especially useful when needing to recall key knowledge for the exam.
IMKRA|16th Nov, 2020
Experienced tutor, good case studies
The tutor is really experienced and has good case studies from real examples in different industries. Also, the exercises used during the course really helped to understand the concepts in depth.
Tata Steel Europe|13th Nov, 2020