Six Sigma Black Belt Training Course
DURATION OF COURSE
20 days
CPD
Equivalent to 140 hours
CERTIFICATES
All delegates will receive a certification on completion.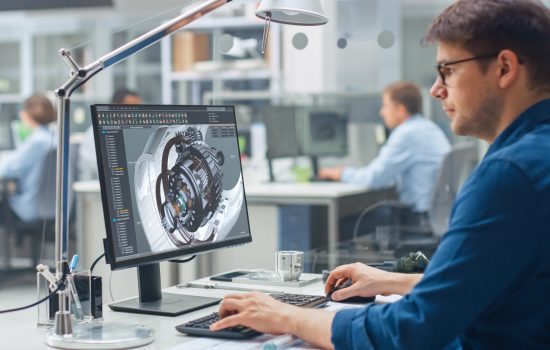 Overview
This Six Sigma Black Belt training course will enable a delegate to understand, to an expert level, the necessary business improvement skills and tools required to manage Six Sigma implementation projects. The training course incorporates the Green Belt stage so no prior training is necessary.
Six Sigma is a set of business improvement tools and techniques used to reduce the likelihood of defects occurring. The system follows the DMAIC methodology of Define, Measure, Analyse, Improve, and Control. At each stage, delegates are provided with a toolkit of process improvement techniques, such as Root Cause analysis, Poka Yoke mistake proofing, and Failure Mode and Effects Analysis (FMEA).
This 20-day Six Sigma Black Belt training course follows the competency requirements set out in ISO 18404, the international standard for Lean and Six Sigma, and includes a project guided by a Six Sigma Master Black Belt. The course will cover the key tools and techniques of Six Sigma, as well as Six Sigma project management and leadership development, equipping delegates with the necessary skills and knowledge to lead process improvement projects.
Delegates that successfully complete this course will be classed as Six Sigma experts and will be awarded with a certificate to demonstrate this. Delegates will also be entitled to apply for certification to ISO 18404 through sector scheme RSS18404, please follow this link to find out more.
Please note that laptops will be required for the duration of the course.
Key Topics
Key topics include:
A refresher of the Six Sigma Principles
Statistics Measurement System Analysis (MSA)
Root Cause Analysis
Poka Yoke Mistake Proofing
Taguchi Methodology
Failure mode and effects analysis (FMEA)
DMAIC methodology
Quality Function Deployment (QFD)
Analytical, Synthetic and Creative Thinking (ASCT)
Six Sigma Project Management Development
Six Sigma Advanced Leadership Skill Development
How to Undertake Project Reviews
Who Should Attend
This Six Sigma Black Belt Training course is highly suitable for those who to:
develop an expert level understanding of Six Sigma
take a leadership role with responsibility for stakeholder needs during Six Sigma implementation projects
be responsible for managing stakeholders needs
be responsible for mentoring Green Belts
easily demonstrate their process improvement capabilities with an internationally recognised certificate
Outcomes
By the end of this course delegate will be able to:
To fully understand the Six Sigma principles and how to implement them
Take a leading role in Six Sigma implementation projects (delegates often achieve 3-4 a year)
Train and manage Green Belts in how to use Six Sigma tools and techniques
Undertake Six Sigma project reviews, allowing them to independently continue their development
Delegates successfully completing this Six Sigma Black Belt programme are eligible to apply to the Royal Statistical Society for independent certification under ISO 18404. This is based on the submission of a portfolio of evidence and attendance at an assessment centre.
Dedicated Training
Our Six Sigma Black Belt Training Course can occur at your premises, a venue of your choice or online. Egaging modules and interactive workshops ensure your team fully understand the Six Sigma principles and discuss how to implement these within your organisation. Dedicated training is often more cost effective and convenient for organisations wish to train a number of employees.
Course Delivery
There are currently no scheduled dates.
Please call us on 0333 123 9001 to discuss dedicated training options or simply request a quote.
Customer Reviews
Engaging and interesting
This was the first time I had experienced a virtual training session, I felt that the tutor kept us fully engaged and made the content interesting.
Cwm Taf Morgannwg University Health Board|7th May, 2020
Increased confidence
Very well explained by the tutor which means I understand the subject better than I expected to and have more confidence in my ability to apply the knowledge.
Rural Payments Agency|3rd Apr, 2020
The tutor's knowledge was exceptional
The tutor was energetic and made the course! His knowledge was exceptional.
Cwm Taf Morgannwg University Health Board|2nd Apr, 2020
Interesting and relevant course
The tutor was engaging, he knows his subject matter and he was able to make the course relevant
New Victoria Hospital|24th Feb, 2020
Very engaging and educational training session.
Very engaging and educational training session. It was very useful to learn via the interactive activities and group work. The course was taught in a manner of which can be compared to our own experiences. Lots of information included, and...
Lucchini Unipart Rail Ltd|7th Nov, 2019
Thoroughly enjoyed the course.
Fully informative training session. It was very useful to learn about RCA and putting within our own practice. The tutor was friendly, helpful and very patient - nothing was a problem.
CRG|16th Oct, 2019