Process Mapping Training Course
DURATION OF COURSE
0.5 days
CPD
Equivalent to 3.75 hours
CERTIFICATES
All delegates will receive a certification on completion.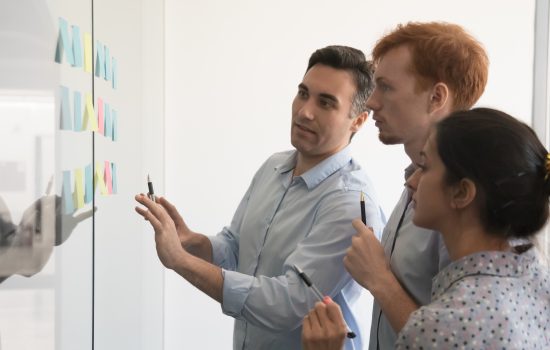 Overview
Process mapping is a technique used to create visual diagrams of business and workflow processes and can include people and resources involved. The core aims of process mapping is to identify waste, streamline processes and to develop a greater understanding of workflows.
Process maps can be built quickly depending on complexity and can help with:
assessing areas of improvement
easily demonstrating processes to others
for developing process documentation
fulfilling process-based requirements such as those of ISO 9001
project planning
This half-day Process Mapping Training Course will equip delegates with the necessary skills required to map out processes, allowing them to identify problems and create more streamlined processes. The course is highly suitable for process improvement managers and improvement teams in addition to quality practitioners as it can help them to fulfil ISO 9001 process mapping requirements.
Key Topics
What is a process
How to identify processes
The concept of core and support processes
Collecting data for a process map
Process mapping techniques
Identifying problems including bottlenecks
Recognising when change is required
Factors to consider in the selection of process mapping software
Identifying continual improvement opportunities
Who Should Attend
This training course is highly suitable for people trying to create visual diagrams for business processes. The course will develop tools and techniques that can be used for gaining a greater understanding of current workflows and developing more efficient processes with future state maps. Some roles that may particularly benefit are:
Quality practitioners
Process improvement managers and improvement teams
Process owners
Outcomes
By the end of this process mapping training course delegates will be able to:
Immediately apply process mapping tools and techniques in their workplace
Create a process map and undertake the transition to a process approach
Analyse finding from process maps including identifying issues
Address the ISO 9001 requirements for developing a process approach
Dedicated Training
The Process Mapping training course can be held at your premises, a venue of your choice or online on your preferred date. The course includes group discussions and workshops covering topics such as 'Mapping the Core Process', 'Detail Process Mapping' and 'Identifying Value'.
For Scheduled Training courses, please select from the Course Dates and Venues table below.
Customer Reviews
Relaxing virtual environment
I thought it would be difficult to take a course via Zoom, but the structure of the course, and the tutors ability to deliver the content made it very easy to do. It is more relaxing in your own home...
Cheriton Lodge Ltd|26th Oct, 2020
Enjoyable and helpful
Virtual course so I expected it to be less interactive than in person - role play exercises were very good and helpful. The tutor was excellent and delivered the course material very well - made it enjoyable.
Johnson Matthey|24th Oct, 2020
Good virtual classroom
I was worried about the virtual classroom situation, but I actually found it good! The tutor was very passionate, simulated auditee roles very well.
Private|23rd Oct, 2020
Convenient and comfortable
It was convenient and comfortable to attend the course from home. Also the tutor made the course engaging so it didn't feel like I missed out on doing an in person course.
30 Technology|23rd Oct, 2020
Great tutor
Great tutor and I really enjoy learning from her
Veolia Environmental Services Plc|22nd Oct, 2020
Comfortable learning
Very in depth, yet the course was done in a very comfortable learning manner and the tutor was extremely knowledgeable.
Denmaur Independent Papers Limited|21st Oct, 2020