ISO 17025 Lead Auditor Training Course
DURATION OF COURSE
5 days
CPD
Equivalent to 40 hours
CERTIFICATES
All delegates will receive a certification on completion.
CERTIFICATION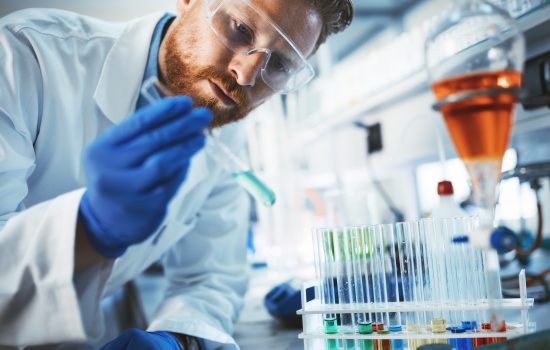 A CQI and IRCA Certified QMS Lead Auditor training course based on ISO/IEC 17025:2017 (Ref: 18249)
This practical, intensive and highly interactive ISO 17025 Lead Auditor training course is designed to develop delegates' auditing skills to conduct Quality Management System (QMS) audits against the ISO/IEC 17025 requirements, in order to:
promote the role of audits within the management system programme and the role of auditors in supporting laboratory compliance and competency improvements
objectively assess compliance of laboratories to meet accreditation body requirements
fulfil the training requirements to register as an CQI and IRCA 17025 Lead Auditor.
This five day ISO 17025 Lead Auditor training course is designed to equip delegates with an in-depth knowledge of the requirements and principles of QMSs and how ISO/IEC 17025 is incorporated into the overall quality system.  It is based around the new structure of ISO/IEC 17025:2017, aligned with other conformity assessment standards as well as the process approach and risk-based thinking from ISO 9001:2015.
Completion of this training course provides laboratory/quality practitioners and systems auditors with the understanding and skills necessary to professionally audit a laboratory management system.
Some delegates find it beneficial to attend the Understanding ISO 17025 training course to gain more knowledge about the ISO 17025 standard. We offer a discount of £100 if booking this course with your Lead Auditor training. Please contact us if you wish to take advantage of this offer.
Overview of the ISO/IEC 17025 requirements
Principles of auditing, the audit cycle and implementing an audit system
Auditing skills and techniques:
Planning – use of checklists, resources and timing
Selection of audit teams
Interviewing and evaluation of information and findings
Observation – objective evidence
Evaluating the significance of nonconformities
Communicating and presenting audit reports
Corrective actions and effective follow-up programmes
Effective improvement – planning, monitoring and results
Accreditation and certification activities
Exam
Sources of information and further development
Individuals wishing to perform audits to ISO/IEC 17025
Companies seeking ISO/IEC 17025 accreditation
Laboratory Managers and Supervisors
Companies that recognise the value of operating effective laboratory management systems
Existing ISO 9001 / IATF 16949 auditors who are looking to expand their skills in the area of laboratory practices or who wish to audit laboratory environments
Supplier quality auditors wishing to evaluate laboratory service suppliers.
Click here to learn more about prior knowledge requirements.
By the end of this ISO 17025 Lead Auditor training course, delegates will be able to:
Develop practical audit skills and apply the requirements of ISO/IEC 17025 to the specific processes and needs of the company.
Assess compliance of an organisation's testing and calibration laboratory practices to meet the company's own internal or external (e.g. Accreditation Body) requirements.
Plan, develop and implement an internal audit process appropriate to the requirements of ISO/IEC 17025.
Conduct audits to professional criteria with confidence, gathering objective evidence through observation, interviewing, document trails to provide factual audit reports that will facilitate improvements to the management system.
Achieve the formal training requirements to allow progression to becoming a CQI and IRCA Registered Lead Auditor.
The CQI and IRCA certified ISO/IEC 17025 Lead Auditor Training Course can be held at your offices, a venue of your choice or online on your chosen date. Dedicated training is often more cost effective for organisations with several delegates to train. The course includes interactive workshops and case studies covering a range of topics including 'Audit Planning', 'Nonconformity Writing' and 'Auditing Techniques'.
For Scheduled Training courses, please select from the Course Dates and Venues table below.
Customer Reviews
Enjoyable
It was a very difficult topic to deliver and the tutor made it very enjoyable
Colas Limited|14th Jan, 2021
Experienced tutor
I thought the tutor was able to answer queries well. His experience came through strongly and I always like tutors that have done what they are teaching.
Sussex Police|14th Jan, 2021
Engaging and detailed
I was not expecting course delivery to be so engaging and detailed online.
Sussex Police|11th Jan, 2021
Fantastic, interesting & professional
The tutor was absolutely fantastic, he made the training very interesting, funny but still extremely professional. His experience, knowledge and the ability to provide brilliant examples for every part of the training, made it very interesting and beneficial.
Sussex Police|31st Dec, 2020
Very knowledgeable tutor, excellent delivery
Very knowledgeable and excellent ability to deliver knowledge in a way that others can understand. Uses experience to back up points and to make it fun (which is well done given the dry nature of the subject)
Sussex Police|21st Dec, 2020
Useful Virtual Classroom course
The Virtual Classroom worked really well with the break out room sessions being very useful, which made I feel like it was a classroom based course. I don't think my experience of the course was hampered at all by it...
North Wales Police|4th Dec, 2020