IATF 16949:2016 Internal Auditor Training Course
DURATION OF COURSE
2 days
CPD
Equivalent to 14 hours
CERTIFICATES
All delegates will receive a certification on completion.
CERTIFICATION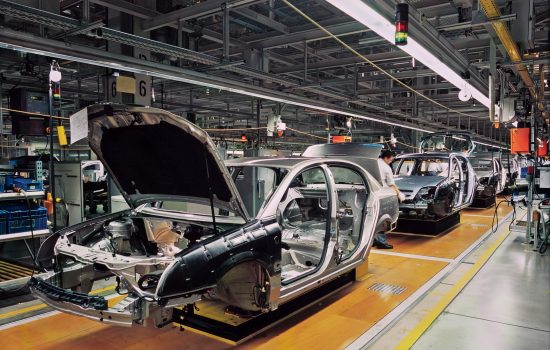 A CQI and IRCA Certified Internal QMS Auditor training course based on IATF 16949:2016 – Course ID: 1676
Overview
This highly interactive and practical IATF 16949 internal auditor training course is designed to develop delegates' skills to conduct internal Quality Management System (QMS) audits, including the additional automotive IATF 16949:2016 requirements, in order to:
Develop effective auditing techniques, improve evaluation and identify opportunities for improvement which contribute to an organisation's growth and success
Objectively assess the compliance of an organisation
Contribute to the requirements to register as an Auditor under the CQI and IRCA Auditor Registration Scheme.
This two day IATF 16949 Internal Auditor training course is designed to enable delegates to objectively apply the requirements and principles of ISO 9001 and IATF 16949:2016, providing quality practitioners and systems auditors with the skills necessary to competently perform internal QMS audits.
Some delegates find it beneficial to attend the Understanding IATF 16949 training course to gain more knowledge about the IATF 16949 standard, or if you require knowledge on the ISO 9001 we recommend the Introduction to ISO 9001 training course. We offer a discount of £100 if booking one of these course with your Internal Auditor training. Please contact us if you wish to take advantage of this offer.
Key Topics
Defining the purpose and structure of quality management standards and an overview of IATF 16949
Principles of auditing, auditor skills and responsibilities and management's role in reviewing the effectiveness of the overall quality system
Auditing skills and techniques:
Planning – use of checklists, resources and timing
Selection of audit teams
Interviewing and evaluation of information and findings
Observation – objective evidence
Evaluating the significance of nonconformities
Communicating and presenting audit reports
Corrective actions and effective follow-up programmes
Effective improvement – planning, monitoring and results
The evaluation of data collection and analysis systems, including customer satisfaction, goal achievement and process monitoring
The IATF's role and approach to certification
Sources of information and further development
Who Should Attend
Those responsible for undertaking internal audits.
Managers, whose departments will be subject to these audits, to help them appreciate the benefits that structured audits and the resulting corrective action can bring.
Individuals who want to become Registered Auditors.
Company personnel who need to demonstrate compliance with IATF 16949.
Click here to learn more about prior knowledge requirements and test your knowledge
Outcomes
By the end of this IATF 16949 Internal Auditor training course, delegates will be able to:
Apply the requirements and principles of ISO 9001 and identify the relationship between ISO 9001 and the additional requirements of IATF 16949, together with the supporting core tools.
Plan and prepare for an internal audit with an understanding of auditing procedures and documentation
Develop their own skills, techniques and competence as an auditor.
Achieve the formal training requirements to allow progression to becoming a CQI and IRCA Registered QMS Auditor.
Dedicated Training
CQI and IRCA certified IATF 16949:2016 Internal Auditor Training Course provided on a dedicated basis at your offices, a venue of your choice or online on your preferred date. Dedicated training is often more cost effective and convenient for organisations where several employees require training. The course includes interactive workshops covering subjects such as 'Audit Process', 'Nonconformity Writing' and 'Corrective Action'. These workshops act as a platform for later discussions for successfully undertaking internal audits, in line with IATF 16949 requirements, within your organisation.
For Scheduled Training courses, please select from the Course Dates and Venues table below.
Customer Reviews
Well Explained
Having the course folder in front of me made it easy to follow along with tutor. The tutor was very clear and explained things well. I also felt more confident to talk in a virtual classroom.
Goodridge Ltd|16th Aug, 2020
Interactive, insightful and enjoyable
The tutor was excellent and made the course very interactive, insightful and enjoyable.
Wipac Technology Ltd|2nd Apr, 2020
Knowledgeable tutor
The tutor had good subject knowledge & was able to deliver information clearly.
Wipac Ltd|11th Feb, 2020
Excellent combined overview of ISO 9001 and IATF 16949!
The tutor was an expert in the field and was able to summarise a vast amount of information into a one day course which was easy to follow for all. The course was not advertised but Bywater was able to...
Johnson Matthey|3rd Dec, 2019
The materials reflected the key points.
The course provided clear guidance and examples on how to perform an audit. The tutor was well prepared and engaged with the group well.
Humiseal Europe Ltd|24th Oct, 2019
Extremely knowledgeable tutor
The tutor was excellent and the exercises really helped understand auditing. Very nice hotel and service.
John Cotton|10th Oct, 2019