AIAG & VDA FMEA Training Course
DURATION OF COURSE
2 days
CPD
Equivalent to 14 hours
CERTIFICATES
All delegates will receive a certification on completion.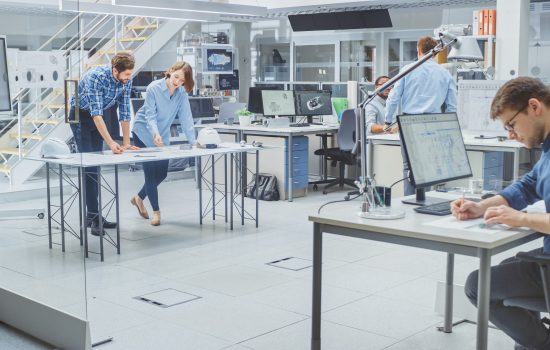 The guidelines for FMEA have recently been updated as a result of the joint publication of the AIAG (Automotive Industry Action Group) and VDA (Verband der Automobilindustrie – German Association of the Automotive Industry) handbooks. The joint AIAG & VDA Handbook was created to improve the FMEA process and make it easier for suppliers to meet the requirements of different customer needs.
FMEA (Failure Mode and Effects Analysis) is an approach used to identify potential failures in the design of products, services or processes, and provides organisations with a step by step procedure for analysing failure effects and classifying them by severity or likelihood. The approach is split into two broad categories, Design FMEA (DFMEA) and Process FMEA (PFMEA).
DFMEA, (Design Failure and Mode Effects Analysis) is an application used for product and process design. DFMEA can be used in product development and alteration to identify and reduce potential failures during the use of a product.
PFMEA, (Process Failure Mode Effect Analysis) is commonly used in the motor industry to analyse potential failures for a particular process and curtail them.
This two-day AIAG & VDA FMEA Training Course focuses on the new AIAG & VDA Handbook, introducing delegates to FMEA, and taking them through the new '7-step approach' to FMEA.  The course will also explore key differences from the 4th edition AIAG Handbook to the new AIAG & VDA Handbook.
This course can be tailored to suit client specific needs and focus on just design FMEA or process FMEA, shortening the course to one day.
For those who already have knowledge of FMEA and the AIAG 4th edition Handbook please see our FMEA Transition Training Course.
The need for FMEA in process and product design
AIAG and VDA objectives
The AIAG 4th edition handbooks and key differences of the new VDA/AIAG handbook
The seven step FMEA process:

Planning & Preparation
Structure Analysis
Function Analysis
Failure Analysis
Risk Analysis
Optimization
Results Documentation

Process and Design FMEA scoring and action priority
This course is suitable those wanting to gain an understanding of how to perform an FMEA to the new AIAG/VGA handbook. The course requires no previous knowledge or understanding of FMEA. Key roles that would benefit are:
Product developers
Product designers
Manufacturing and engineering managers
Process and product engineers
IATF 16949 auditors
Delegates that attend this AIAG/VDA FMEA Training Course will be able to perform an FMEA to the new standard and identify differences in this method from the one set out in AIAG's 4
th
edition. This includes the ability to:
Use the new AIAG/VDA 7 step approach for performing an FMEA
Understand VDA and AIAG motivations for the update
Understand Process and Design FMEA scoring and action priority
The AIAG & VDA FMEA Course is provided on a dedicated basis at your premises, a venue of your choice or online. The course includes interactive workshops which encourages your team to discuss how they produce an FMEA within your organisation. Schedule the course for a date which is convenient for your team.
Course Delivery
This course is available on a dedicated basis. Please contact our team on 0333 123 9001 to discuss scheduling training on your preferred date at your premises, a venue of your choice or within our virtual classroom.
Customer Reviews
As good as face-to-face training
I thought it would be more challenging in a virtual classroom but I feel it was just as good as a face-to-face environment.
Travis Perkins Plc|18th Jan, 2021
Highly qualified tutor
I wasn't expecting such a highly qualified tutor which so much experience to call upon. It was all very good
Achilles Information Limited|17th Jan, 2021
Enjoyable and rewarding
I did have reservations about whether it would work doing the course this way, but it was a very enjoyable and rewarding experience
WCS Services|16th Jan, 2021
Good team exercises
It ran smoothly and was a lot less awkward than other virtual classroom settings. The team exercises worked well with the breakout rooms as well.
EPS Ltd|15th Jan, 2021
Excellent
The course was excellent. Run very well through Zoom. Minimal connection issues, breakout rooms worked well.
MOD|15th Jan, 2021
Enjoyable
It was a very difficult topic to deliver and the tutor made it very enjoyable
Colas Limited|14th Jan, 2021