IATF 16949 Lead Auditor Training Course
DURATION OF COURSE
5 days
CPD
Equivalent to 40 hours
CERTIFICATES
All delegates will receive a certification on completion.
CERTIFICATION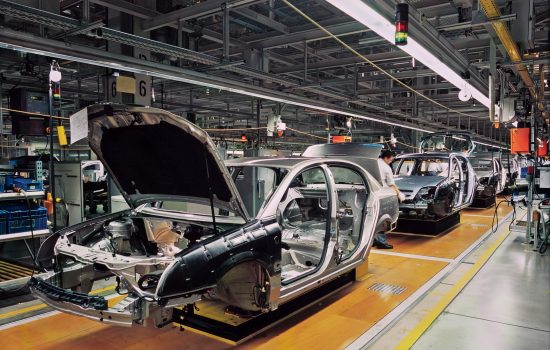 A CQI and IRCA Certified QMS Lead Auditor Training Course incorporating the IATF 16949:2016 requirements for the Automotive Industry – Course ref 1675.
This intensive, highly interactive and practical 
IATF 16949 Automotive Lead Auditor training course
is designed to develop delegates' skills to conduct 1st, 2nd and 3rd party Quality Management System (QMS) audits against IATF 16949:2016 requirements and ISO 9001:2015 requirements, in order to:
assess compliance of an organisation against the requirements of IATF 16949 and ISO 9001
develop continuous improvement programmes that deliver on-going benefits to your company's growth, enhancing customer satisfaction and reducing waste within the supply chain
meet the training requirements for registration as a QMS Lead Auditor under the CQI and IRCA Auditor Registration Scheme.
The course includes a central case study to allow delegates to put ideas learnt into practice. Assessment is by continual assessment and an examination on the final day.  Familiarity with ISO 9001 is necessary for a full understanding of the principles developed in this course.
Some delegates find it beneficial to attend the Understanding IATF 16949 training course to gain more knowledge about the IATF 16949 standard. We offer a discount of £100 when booking this course with your Lead Auditor training course. Please contact us if you wish to take advantage of this offer.
Defining the purpose and structure of quality management standards and an overview of IATF 16949
Principles of auditing, auditor skills and responsibilities and management's role in reviewing the effectiveness of the overall quality system
Quality Tools (APQP, FMEA, SPC, PPAP & MSA)
Auditing skills and techniques:

Planning – use of checklists, resources and timing
Selection of audit teams
Interviewing and evaluation of information and findings
Observation – objective evidence
Writing and grading nonconformities
Communicating and presenting audit reports
Corrective actions and effective follow-up programmes
Effective improvement – planning, monitoring and results

The evaluation of data collection and analysis systems, including customer satisfaction, goal achievement and process monitoring
Accreditation and certification activities
Sources of information and further development
Those who will be involved in conducting 1st, 2nd and / or 3rd party audits within the automotive sector.
Those responsible for obtaining third party certification to IATF 16949 for their organisation.
Individuals who want to become CQI and IRCA Registered Lead Auditors.
Senior managers who will have to evaluate the outcome of internal QMS audits and who have responsibility/authority to improve the effectiveness of the QMS.
Click here to learn more about prior knowledge requirements and test your knowledge.
By the end of this IATF 16949 Lead Auditor training course, delegates will be able to:
Apply the requirements and principles of ISO 9001 and identify the relationship between ISO 9001 and the additional requirements of IATF 16949, together with the supporting core tools.
Assess compliance of an organisation to meet their company's own internal or external requirements.
Conduct audits to professional criteria with confidence, gathering objective evidence through observation, interviewing and document trails to provide factual audit reports that will facilitate continuous improvements to the quality management system.
Develop their own skills, techniques and competence as an auditor.
Achieve the formal training requirements to become a CQI and IRCA Registered QMS Lead Auditor.
Dedicated training can be held at your offices, a venue of your choice or online on your chosen date and is CQI and IRCA certified. The five-day lead auditor course is led by an IATF 16949 expert tutor. The course includes interactive workshops and role plays covering a range of topics including 'Quality Management Standards', 'Audit Situations' and 'Preparing Nonconformity Statements'. Dedicated training is often more cost effective and convenient for organisations wishing to train several employees.
For Scheduled Training courses, please select from the Course Dates and Venues table below.
Customer Reviews
Inspiring
Tutor had lot of experience that he shared in an inspiring way
SL-Weld|20th Feb, 2021
Exceptional
The tutor used a lot of own knowledge to enforce the understanding, and his overall skills and know how on the standards was exceptional. He had a good a good and fun way of delivering the course content. I thought...
STC International|18th Feb, 2021
Easy to follow
The tutor has a solid concept of the Standards. His practical oriented explanation was easy to follow and enjoyable.
Impedans Ltd|11th Feb, 2021
Practical knowledge
Both tutors had an in depth and practical knowledge of the subject
Clark Door Ltd|8th Feb, 2021
Opportunities for discussion
Tutor knowledge and delivery was very good. He gave us a lot of examples and we had opportunity to discussed a lot of situations. During the course with all the workshops and exercises I had opportunity to applied what I...
Cuts Ice|6th Feb, 2021
Well explained
The tutor was great surfing through all of ISO 9001 with such ease that everything seems obvious after explained
SBP Management And Engineering Solutions Ltd|4th Feb, 2021