FSSC 22000 V5 Internal Auditor Training Course
DURATION OF COURSE
2 days
CPD
Equivalent to 14 hours
CERTIFICATES
All delegates will receive a certification on completion.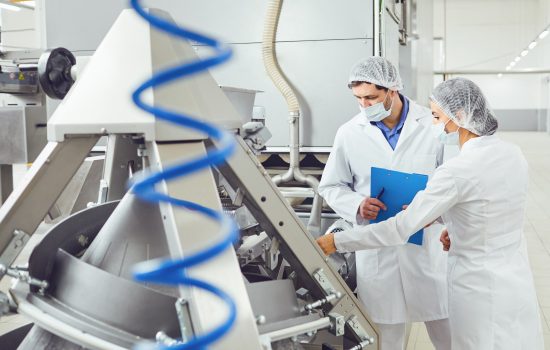 Overview
Internal auditing is fundamental in maintaining an effective Food Safety Management System (FSMS) and assessing its compliance with FSSC 22000. The FSSC focuses on continual improvement and innovation, incorporating the principles of ISO 22000, sector specific Pre-Requisite Programs (PRPs) and FSSC 22000 specific requirements.
This two-day FSSC 22000 Internal Auditor course includes engaging modules, interactive workshops and role play to teach delegates how to assess the effectiveness of the FSMS and its compliance with FSSC 22000, identify hazards and nonconformities and provide recommendations for improvements.
Key Topics
Overview of FSSC 22000 and the specific requirements including V5 requirements
ISO 19011:2018 – Guidelines of Auditing Management Systems, including risk-based approach to the principles of auditing
Sector specific Pre-Requisites Programmes (PRP)
Hazard control and analysis (HACCP, CCPs and OPRPs)
Requirements of a Food Safety Management System (FSMS)
The internal audit process: audit stages, scope, objectives, planning, interviewing techniques, reports, follow-up and closing meetings.
Checklists for ISO 22000, the relevant PRP standard and additional FSSC 22000 requirements
Grading and closing nonconformities in line with FSSC 22000 requirements
Overview of FSSC-22000 Quality
Who Should Attend
Staff who will be involved in performing internal audits (first party), including those managing the audit programme, auditors and the audit team within a FSSC 22000 certified organisation
Staff within an organisation who are seeking to gain FSSC 22000 certification, including those within organisations who are already ISO 22000 certified
Those seeking to implement a Food Safety Management System which is recognised by the Global Food Safety Initiative (GFSI)
Managers responsible for the FSMS
Auditees who wish to understand the audit process within the food sector
Some delegates may find it beneficial to attend our Understanding FSSC 22000 Training Course to gain a better understanding of FSSC 22000, ISO 22000 and ISO/TS 22002-1.
Outcomes
By the end of this FSSC 22000 V5 Internal Auditor course delegates will understand the principles of an internal FSSC 22000 audit and be able to:
Plan, conduct, report and follow up a FSSC 22000 internal audit
Assess an organisations Food Safety Management System (FSMS) in line with ISO 22000
Gather objective evidence through interview, observation and sampling
Identify hazards within the FSMS and understand how these can be analysed and controlled
Contribute to the continual improvement of the FSMS
Course Delivery
This course is available on a dedicated basis. Please contact our team on 0333 123 9001 to discuss scheduling training on your preferred date at your premises, a venue of your choice or within our virtual classroom.
Customer Reviews
Comfortable learning
Very in depth, yet the course was done in a very comfortable learning manner and the tutor was extremely knowledgeable.
Denmaur Independent Papers Limited|21st Oct, 2020
Engaging Virtual Classroom
It was more engaging than I thought it would be.
MOD|20th Oct, 2020
Everyone progressed
The tutor bent over backwards to ensure everyone was afforded time and help so everyone progressed through the course.
Eastman|20th Oct, 2020
Knowledgeable and engaging
The tutor was fantastic. Very knowledgeable and engaging.
Veolia Environmental Services Plc|19th Oct, 2020
Interactive
Flow and interaction was a real plus point for me
John McGavigan Limited|17th Oct, 2020
Interesting and fun
The tutor made the learning experience interesting and fun
Exlabesa Extrusion (Doncaster) Ltd|14th Oct, 2020